Tis the holiday season, and it's time to decorate your home! As you start holiday shopping, don't forget about your garage door. It might not be a space that we usually think of for holiday decoration, but there are some fun ways you can make yours stand out.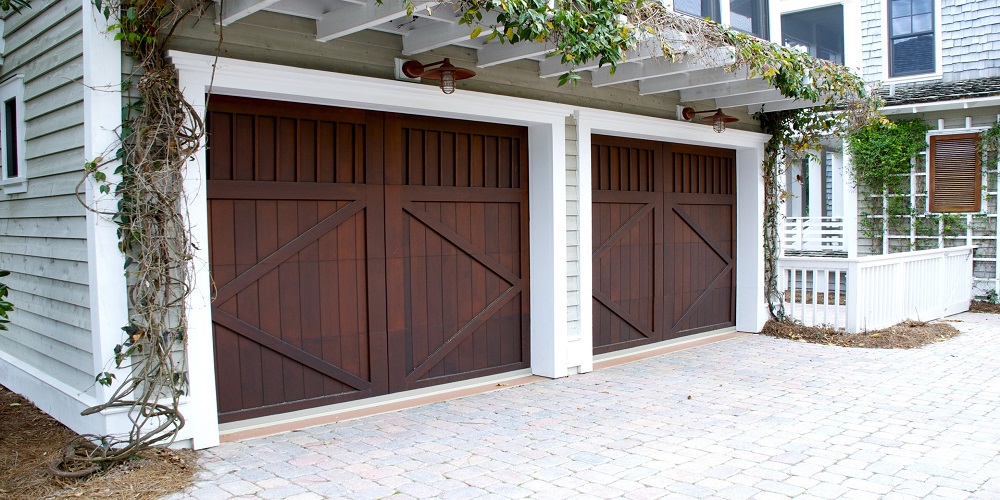 First, a word of safety. Garage doors are likely the closest we have in our homes to industrial machinery. Always make sure the power to your garage door is OFF while decorating, so the door does not accidentally go up and cause injury. Also, ensure that the decorations do NOT interfere with the function of the garage door and are not blocking safety sensors. Also, keep in mind sticking anything directly to your garage could cause damage and void the warranty, so make sure you read all directions and surface instructions.
Now, here are some creative ideas for holiday garage doors!
Big Red Bow, Garland, and Wreath
One of our favorite ideas is shown above in the photo. It's gorgeous, entertaining, and simple to accomplish. The decoration makes your door look like a gift box!
Use a bright red bow for the front of your garage door. On the structure around the door, use light-up garland on the garage trim. Add a touch of class with a light-up wreath over the garage. The bow may be found in various styles, magnetic being suitable for metal doors and vinyl cutouts with removable adhesive for all materials.
Snowman Face
Do you enjoy adorable and cute? A snowman kit above could be the ideal one for you! Kits include die-cut plastic material and double-sided tape that will adhere to most steel garage doors.
A cute tophat on the structure and a snowman face with a carrot nose are sure to bring smiles and giggles to anyone that sees it!
Keep your snowman safe. Make sure to avoid placing the decorations on the moving joints of the garage door.
Holiday Mural
Turn your garage door into a holiday painting! Murals are an excellent and simple way to add color and life to your home while also impressing and inspiring your neighbors.
Murals may be made of vinyl, so they are lightweight and last for years to come. They attach with special hooks at the top and with tension hooks at the bottom, so they are safe and secure to your garage door.
Outdoor Lamp Decorations
Here is a simple one most people forget, and there's not even a need to run new electricity! Outdoor lighting is a great place to add simplicity and festive cheer.
You may quickly and simply add holiday decor to your garage lights to give your house a beautiful burst of holiday spirit without being overpowering. Hometalk's decorations, for example, are available ready-made at many craft shops.
If you're more artistic, you can make your own garage lamp decor with real or fake wood branches, wire, ribbon, and craft foam to stick into. Add some festive plastic or metal pieces to accent, and wha-la!
For safety reasons again, we recommend staying away from the glass!
The Grinch Is Stealing the Christmas Lights!
This fun and easy decoration is perfect for minimalist humor. All you need is one strip of lights and a lit-up Grinch. Hang half the lights across the top of your garage door, and then hand the other half to the Grinch or another Holiday culprit!
Available for purchase online or DIY-ers could make their own, the figure of the Grinch is a large cutout with a small spotlight (solar?) stuck in the ground in front to light it up.